Studio20 Architects Kitchens
Introducing Metallic

​

Slick and stylish metallic accents in the kitchen are a trend that is here to stay. The black handle-less cabinets with gold colour metal inflexions lift and enunciate any space. The striking contrasts bring a beautiful balance between the design elements.​
​
The matte black, high-end kitchen cabinets make the marble look quartz backsplash sparkle. The spacious open-plan design enhances the room's flow and allows light to stream in more easily. In addition, floor-to-ceiling cabinets, the décor, and finishes, vertically elongate the space, making it feel even roomier and more playful as a result.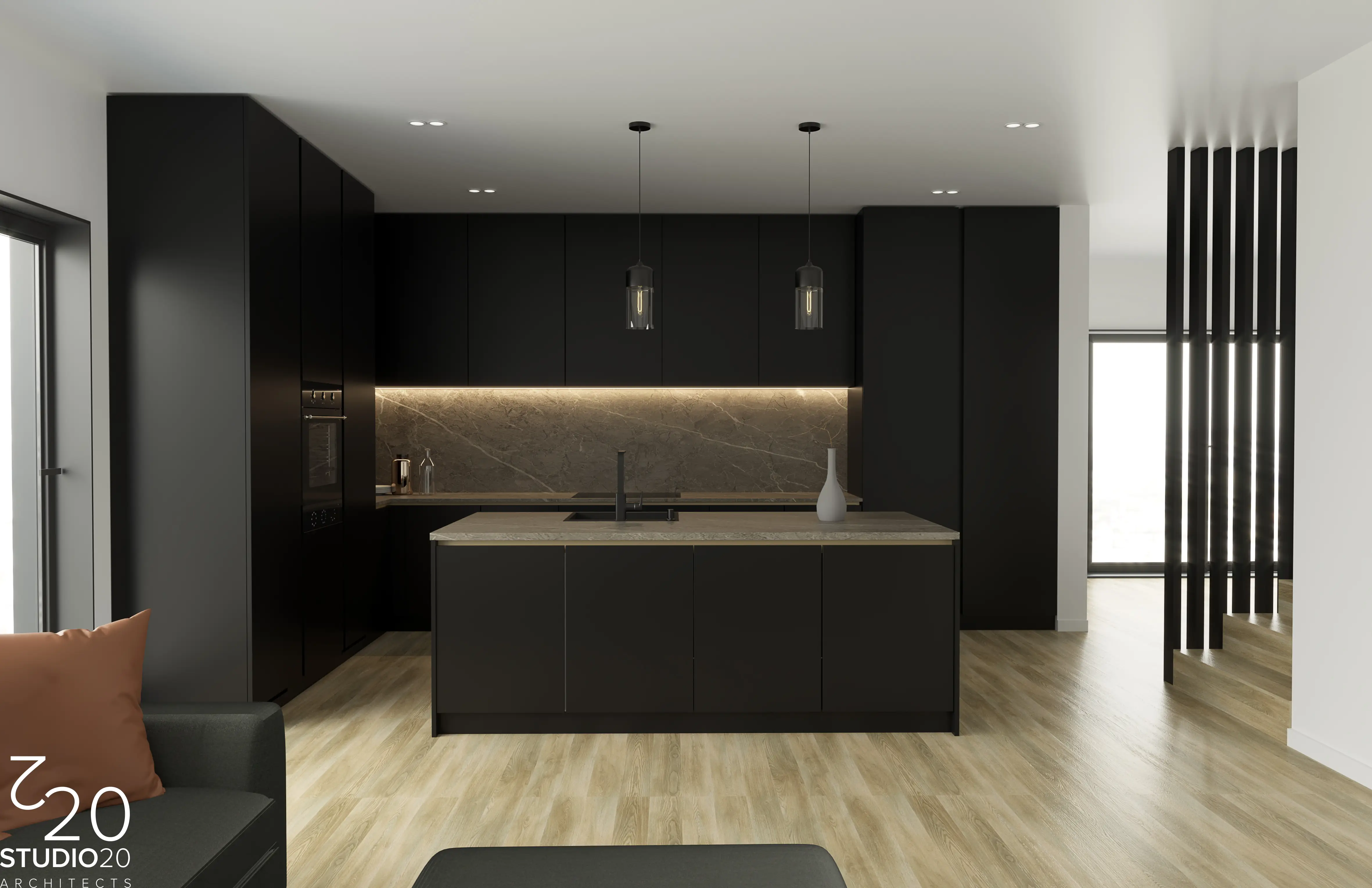 At Studio20 Architects Kitchens, we believe in using only the highest quality materials, and our Karma range is no exception. Our designers carefully source and select only the best quality materials, ensuring that your kitchen not only looks stunning but is also built to last.
Here's what our clients have to say.
Nadir is not just an architect… he's an artist. He listens to his clients and designs and builds for their needs, not to his personal tastes as so many architects do. His genuine skill and willingness to design a project to the client's needs sets him apart! They were extremely responsive, worked collaboratively with us, and delivered very exciting designs. Highly recommend!
Farkas "Gibkey" Gabor
2023-01-17
I worked with Nadir from Studios Architects on an orangery project. He was very personable and helpful throughout the project and was happy to be on site whenever we asked and gave some good advice. Nadir helped make the project feel seamless and dealt with everything in a polite manner and with ease and good knowledge. I highly recommend.
Nadir was extremely approachable and professional. He was very accommodating as he altered our drawing plans several times on our request and got our plans approved by the council . Many thanks
Behrad Elmiyeh
2022-06-28
Despite our best intentions we ran into a rookie planning move, where we allowed scope creep to move us away (incrementally at first) from our approved planning design. Nadir was so polite and even worked with us after hours to understand our issue and offer solutions which ultimately saved us from a potentially costly mistake. The team at studio20 and Nadir in particular are high quality and second to none! I would very highly recommend their services!!
Rodney Charles
2022-05-23
I've worked with Studio20 Architects for my office interior. Menekse and Nadir helped us on interior design of my office to understand the process and was very helpful whenever I had questions. I felt that the team was experienced from Interior design process to project management for all the stages. Highly recommended!!!
Yasemin Hatipoğlu
2022-03-15
Great service. Coordinated well between builders and structural engineer. The whole team (builders, tilers and painters) all did a quality job and were very very neat and considerate.
Excellent ideas and follow up. I have been loo Struggling to find an architect that would understand the complicated structure of my house untill I found these guys. They made things look simple.
I've used Studio20 service for planning Single storey rear extension for my South Croydon project. Nadir and his team were very helpful and they explained the process and were always at hand whenever I had questions.
Contacted Studio20 for some Building Reg and structural drawings Nadir was very efficient and polite he conducted the whole process professionally and with very good knowledge Thank you will definitely recommend
Nasim Chaudhry
2021-06-08
Get more information about your local architect services