Meet Our Studio20 Architects Kitchens
Over the past 35 years, we have created stunning luxury spaces that make a real difference in how customers use their space. During our time so far, we have seen many changes in trends, lifestyles, needs, colours and technology for your kitchen. As a result, we have proudly developed our furniture and refined our processes to reflect the ever-changing world.
Our factory has an area of 3500 m2, where it carries out its production and manufacturing activities, and our amazing team of creative and talented designers continuously challenges existing ideas to create new and stimulating designs for our clients.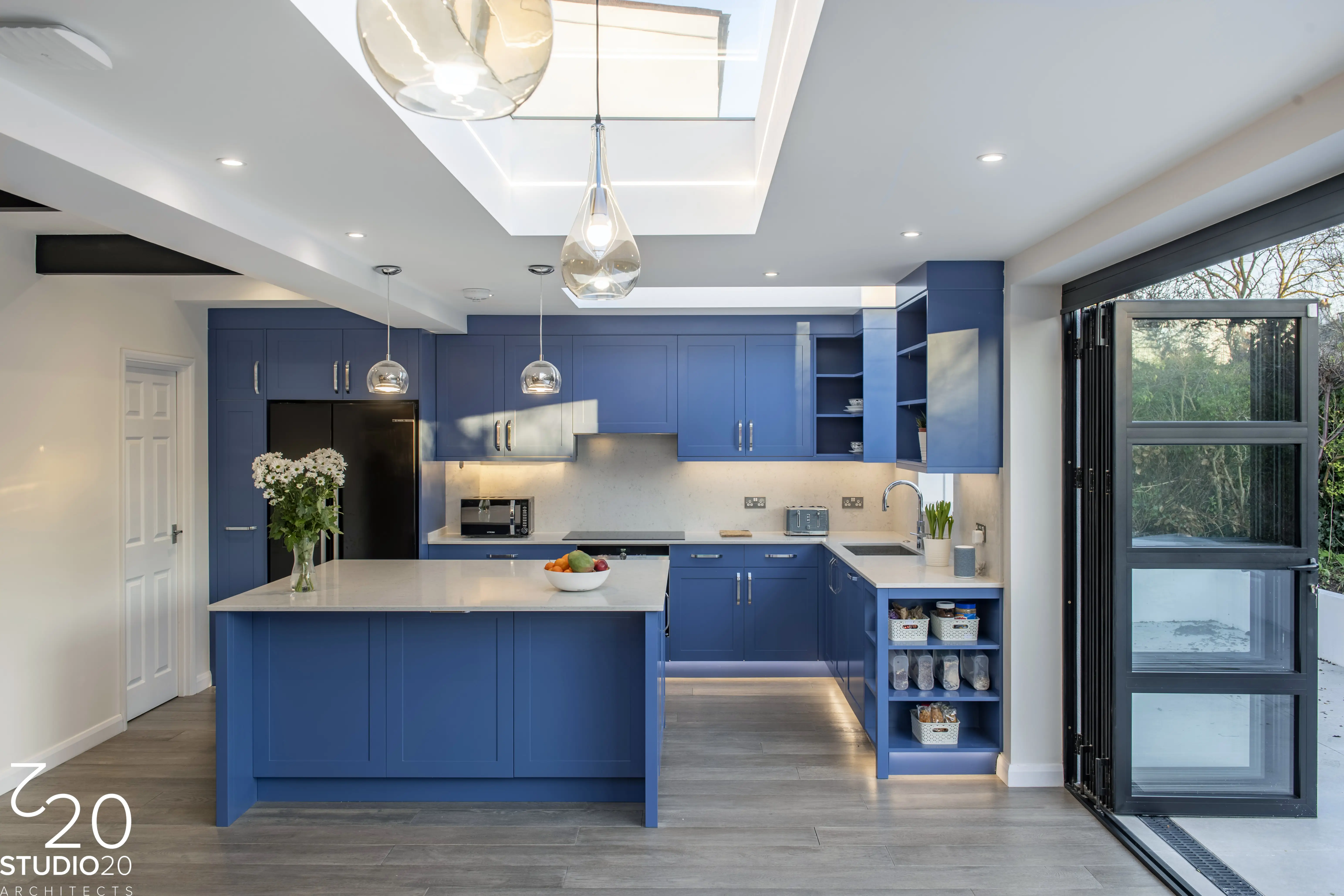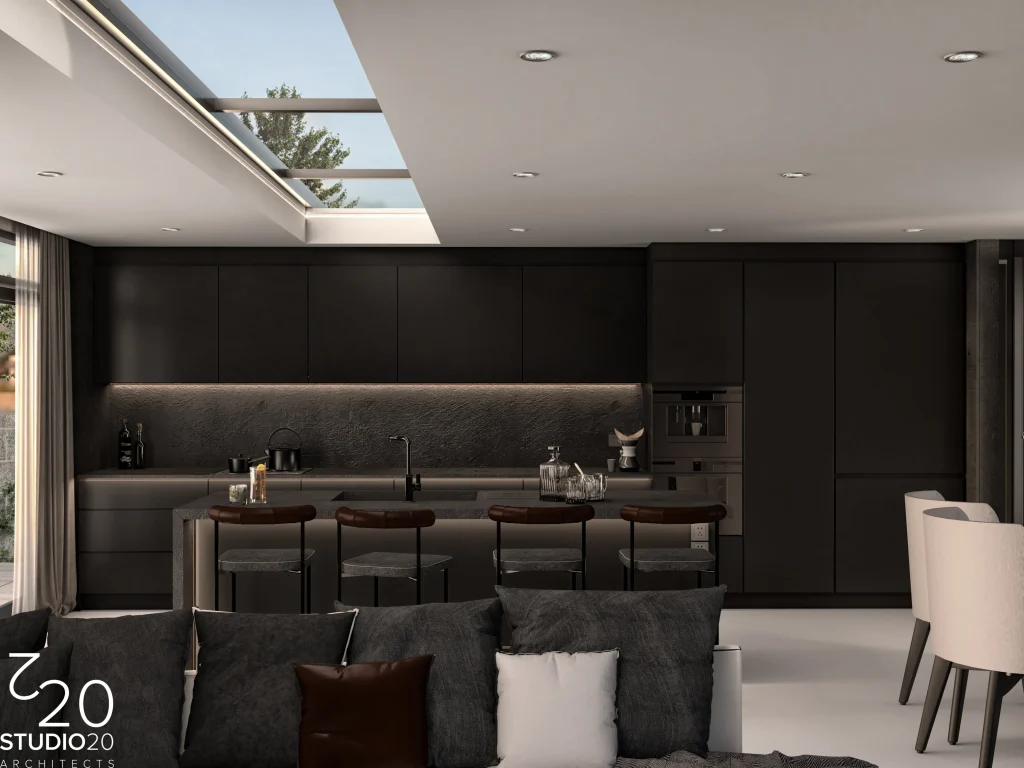 The Stylish Black Handless Kitchen is a strong choice move that can transform the look and feel of your kitchen and dining experience.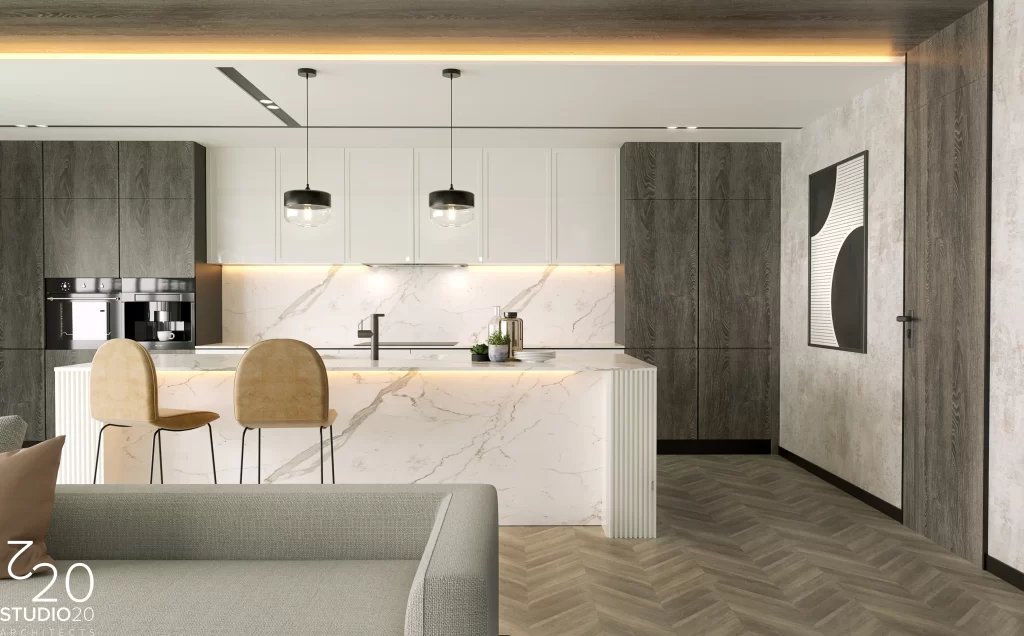 Create a confident and influential presence in your kitchen with a marble-style ceramic block design and wood accents.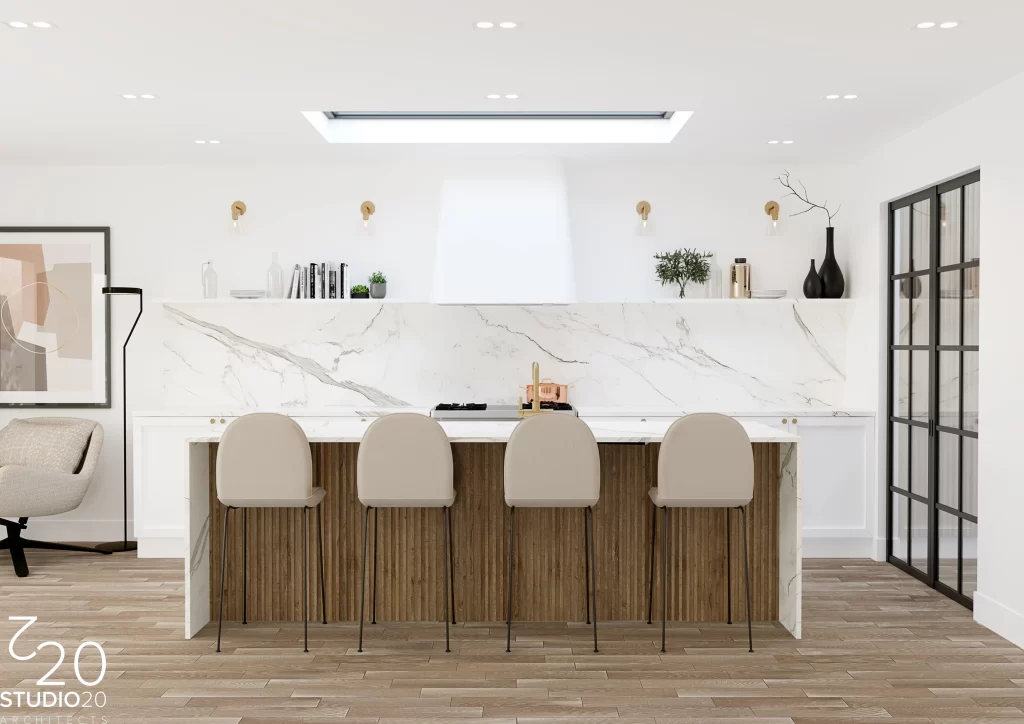 Part of the beauty and spectacle of having a bespoke kitchen designed just for you is that you can be as bold or discreet as you like.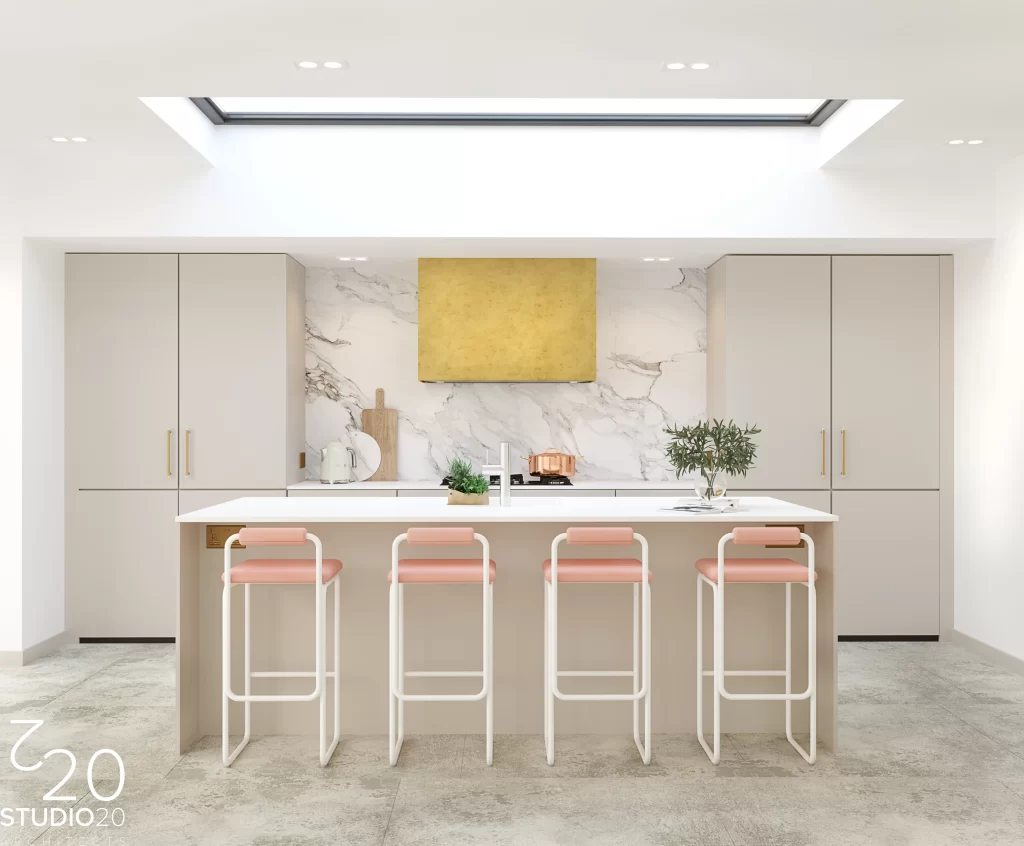 Consider aged brass for your home; it remains firmly on trend in kitchen design and suits all tastes. The aged brass is practical, beautiful, and warm tones help create a stunning interior.
Slick and stylish metallic accents in the kitchen are a trend that is here to stay. The black handle-less cabinets with gold colour metal inflexions lift and enunciate any space. The striking contrasts bring a beautiful balance between the design elements.
The concrete acts as a subtle backdrop to allow the other features in your kitchen to take centre stage. White looks even brighter, while the wood can appear to have more character and the beige more intense and vibrant.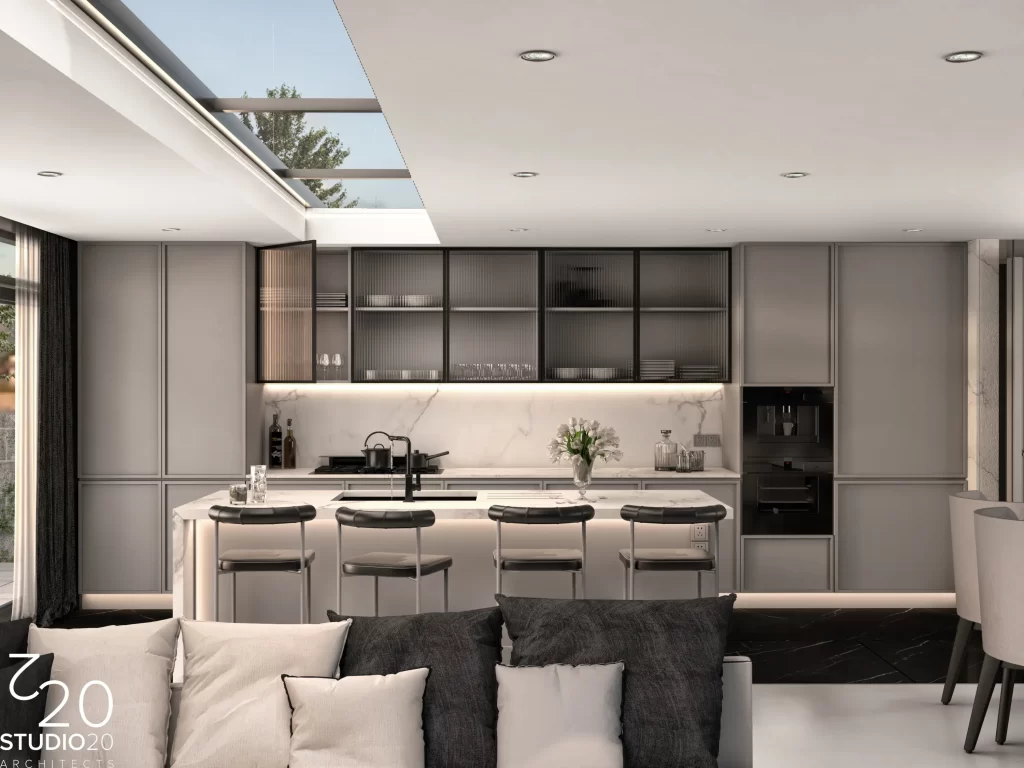 Whether your kitchen features wood, metal or stone, glass cabinets work beautifully within any design.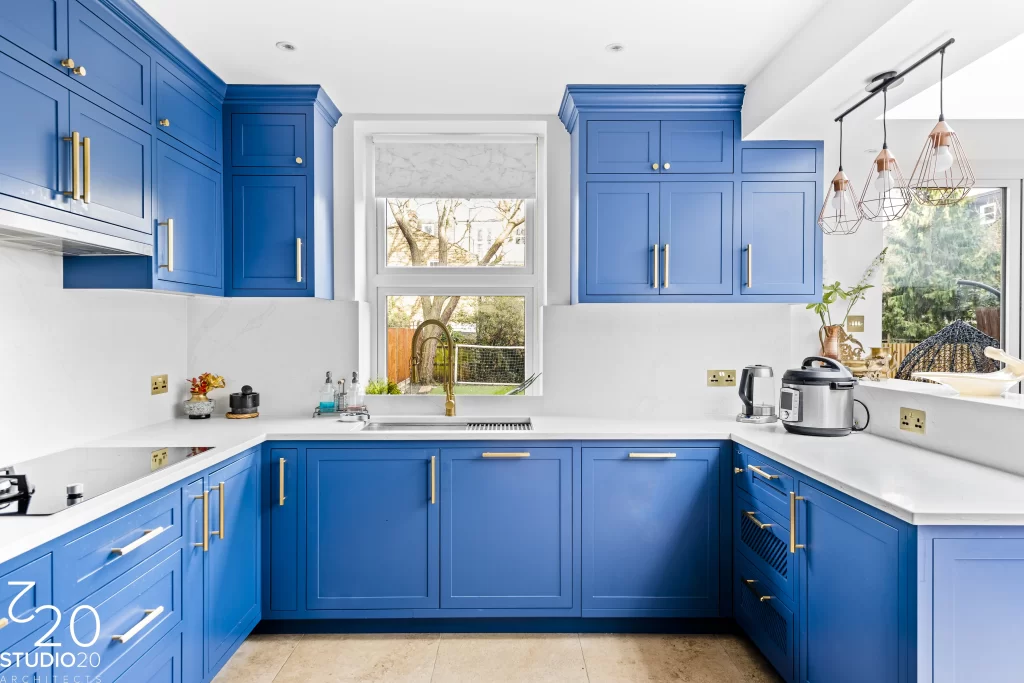 While blue is not a traditional Shaker colour, it complements the recessed panelled cabinets and brightens up your space.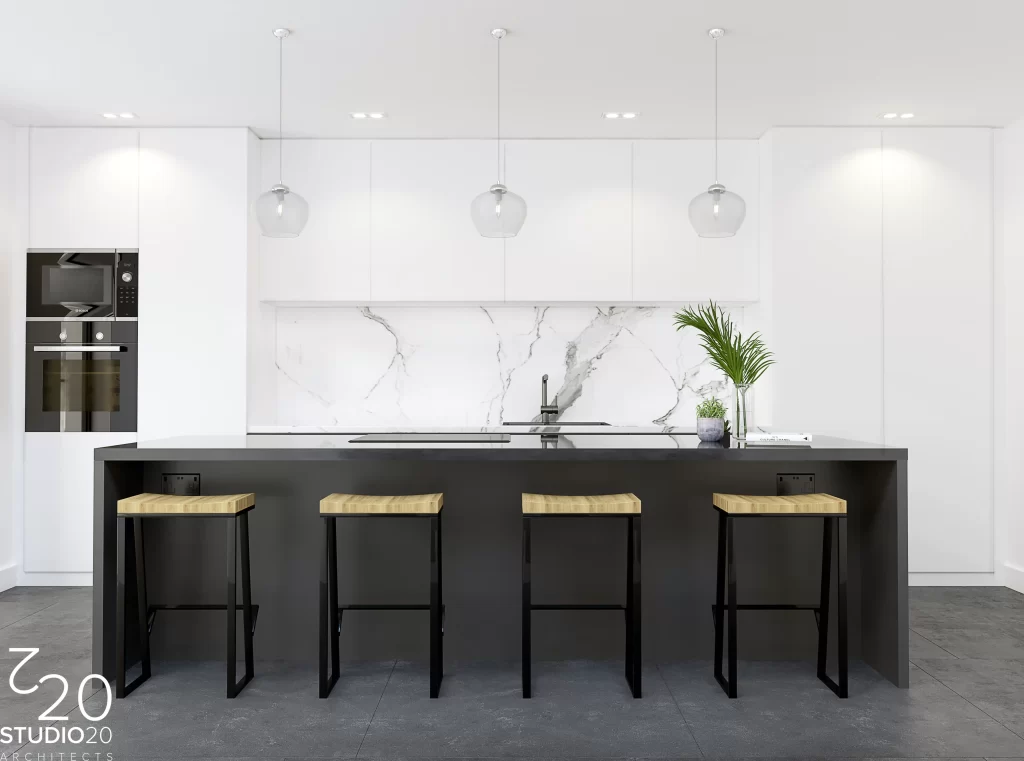 The kitchen is the heart of the home; it is the space we cook for our family, dine with friends, entertain, relax and work; it is all things to the home.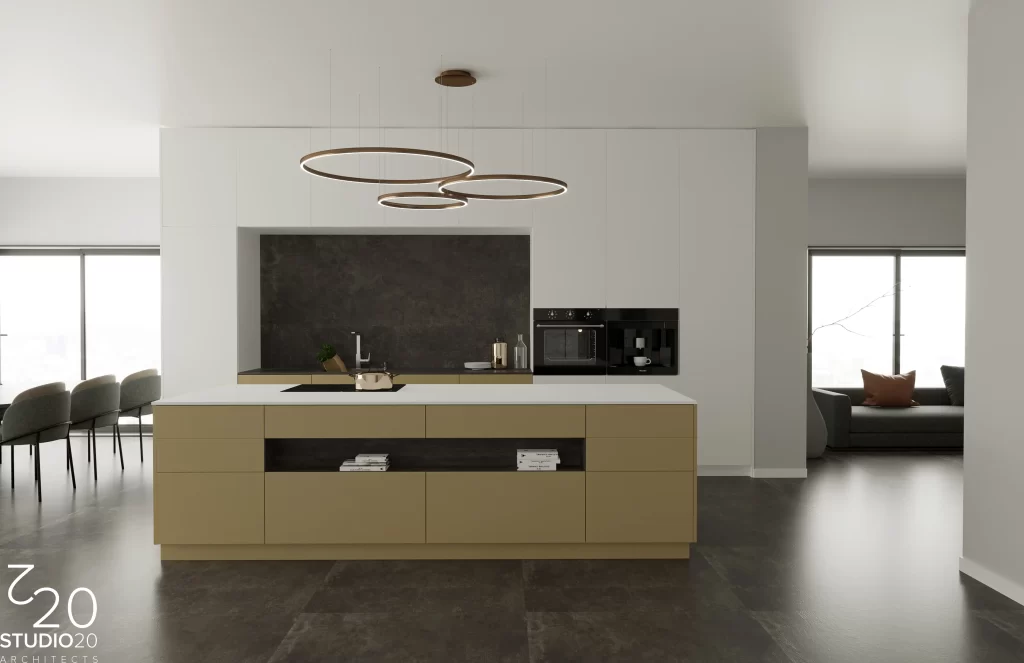 Sophisticated and minimal fashion, our Royal range evokes clean and aesthetically pleasing lines, a warm-yet-neutral colour palette, clever features, ergonomic practicality and a welcoming ambience.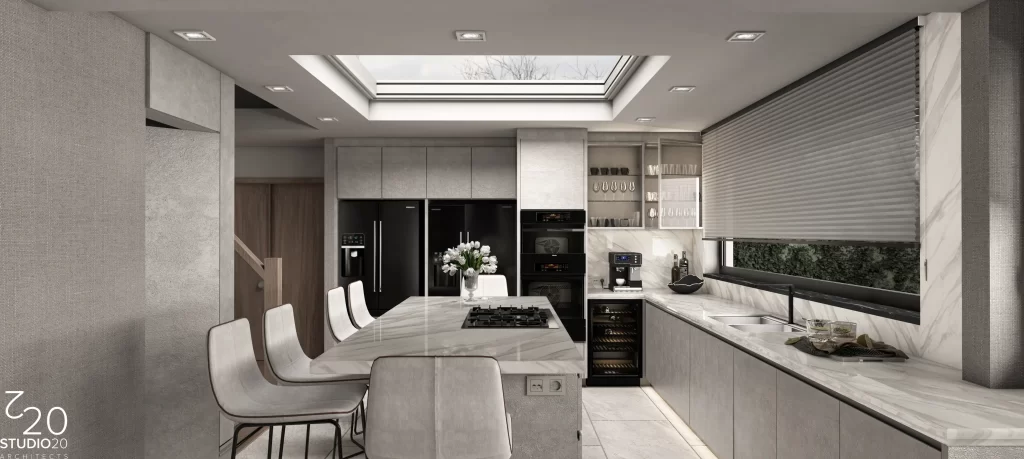 While blue is not a traditional Shaker colour, it complements the recessed panelled cabinets and brightens up your space.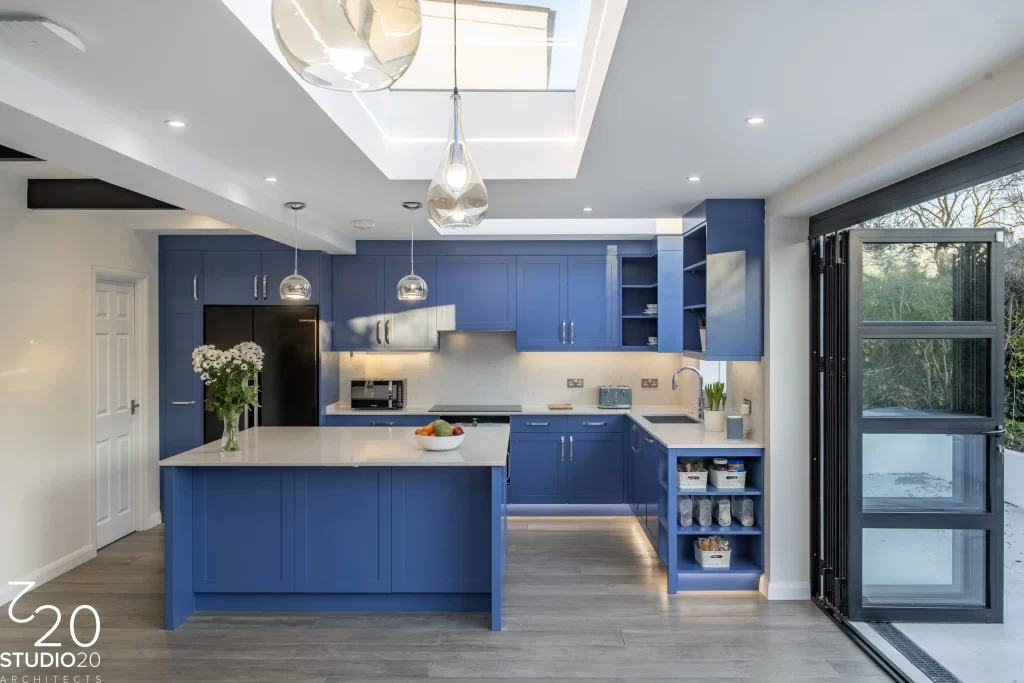 By extending just 3 meters to the tail end of the house, you could achieve an open plan kitchen, living and dining area, which offer a seamless connection to the garden.
To Achieve this look, start with floor to ceiling cabinets in an all black finish for maximum impact. For added texture, opt for handless cabinets with metal accents like brushed brass that will add visual interest without detracting from the overall aesthetic
Here's what our clients have to say.
Nadir is not just an architect… he's an artist. He listens to his clients and designs and builds for their needs, not to his personal tastes as so many architects do. His genuine skill and willingness to design a project to the client's needs sets him apart! They were extremely responsive, worked collaboratively with us, and delivered very exciting designs. Highly recommend!
Farkas "Gibkey" Gabor
2023-01-17
I worked with Nadir from Studios Architects on an orangery project. He was very personable and helpful throughout the project and was happy to be on site whenever we asked and gave some good advice. Nadir helped make the project feel seamless and dealt with everything in a polite manner and with ease and good knowledge. I highly recommend.
Nadir was extremely approachable and professional. He was very accommodating as he altered our drawing plans several times on our request and got our plans approved by the council . Many thanks
Behrad Elmiyeh
2022-06-28
Despite our best intentions we ran into a rookie planning move, where we allowed scope creep to move us away (incrementally at first) from our approved planning design. Nadir was so polite and even worked with us after hours to understand our issue and offer solutions which ultimately saved us from a potentially costly mistake. The team at studio20 and Nadir in particular are high quality and second to none! I would very highly recommend their services!!
Rodney Charles
2022-05-23
I've worked with Studio20 Architects for my office interior. Menekse and Nadir helped us on interior design of my office to understand the process and was very helpful whenever I had questions. I felt that the team was experienced from Interior design process to project management for all the stages. Highly recommended!!!
Yasemin Hatipoğlu
2022-03-15
Great service. Coordinated well between builders and structural engineer. The whole team (builders, tilers and painters) all did a quality job and were very very neat and considerate.
Excellent ideas and follow up. I have been loo Struggling to find an architect that would understand the complicated structure of my house untill I found these guys. They made things look simple.
I've used Studio20 service for planning Single storey rear extension for my South Croydon project. Nadir and his team were very helpful and they explained the process and were always at hand whenever I had questions.
Contacted Studio20 for some Building Reg and structural drawings Nadir was very efficient and polite he conducted the whole process professionally and with very good knowledge Thank you will definitely recommend
Nasim Chaudhry
2021-06-08